El u

niverso creativo de John Zorn es lo suficientemente grande como para poder perderse en él. Hay mundos ignotos, pequeños satélites que orbitan sobre una idea pasajera, sistemas que integran un ámbito homogéneo y luego están galaxias como Masada que de por sí abarcan un montón de mundos. Es quizá esa persistencia en una fertilidad inagotable, el cansancio que requeriría semejante demanda de atención constante, la que en no pocas ocasiones provoca que pasen de largo algunos de sus lanzamientos. Y es éste uno de esos discos que llega como cuando te aparece el autobús recién alcanzamos la parada.
En la portada aparece un animal con escamas, especie de dragón comiéndose la cola. Es un símbolo que figura en la iconografía en varias civilizaciones antiguas, aunque aquí se haya preferido el Uróboro, ser mitológico griego que bajo el término Hen to Pan (vendría a ser como yin y yang) cierran el círculo vital que une principio y fin: "todo es uno".
Bien, me digo, vuelve un término griego en su discografía. El otro relevante al que acudo en mi memoria fue Aporias (1998), nombre también procedente de la mitología griega que personifica una dificultad o un problema irresoluble. Aporias, monumental pieza para piano y orquesta, está llena de giros temáticos a modo de collage sonoro y guarda no pocos puntos en común –además de con Frank Zappa- con la siguiente partitura relevante que Zorn escribió inmediatamente después para cuerda: The String Quartets (justo un año después, 1999).
El uso de material instrumental mixto parecía clásico a finales de los 70s. Este tipo de "envases", servidos por un grupo de músicos fieles bajo indicaciones , le llevarían después a
Cobra
, especie juego interactivo, y los distintos proyectos Masada
Estamos, pues, dentro de un terreno creativo en el que nuestro protagonista se centra en la escritura. Pero esta propuesta no guarda relación con Masada, un proyecto cuya base se asienta en apuntes temáticos con derivaciones improvisadas sobre motivos folclórico-antropológicos distribuidos en distintas paletas instrumentales. Tampoco estaría vinculada con su trabajo para música de cine, con su más aguerrida actitud punk o con esos esbozos climáticos y hedonistas que definen
Alhambra love songs
o
In search of the Miraculous.
No, ni siquiera tiene que ver con conjuntos de cámara inventados al rededor de la órbita Masada como el String Trio. En cambio, se trata aquí de un concienzudo trabajo de composición que, tratándose al mismo tiempo de un músico-improvisador que usa métodos de composición-dirección instantánea, despeja o posibilita espacios abiertos en una estructura sólidamente prefijada.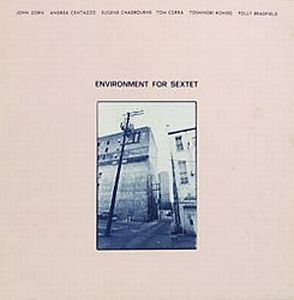 First Enviroment for sextet
(1979)
Viajando al pasado de la música de Zorn para encontrar un punto de referencia común, uno se encuentra con la primera pieza de este tipo que pude oír de él en un interesantísimo y raro recopilatorio italiano titulado
Utopía Americana
(sello New Tone, 1992). Se trataba de
First Enviroment for sextet
y estaba datado en 1979. Teníamos ahí un autor que se situaba en un puesto parecido al de Zappa, usando mucho la ironía e intercalando recursos musicales cultos (Boulez) y populares (rock-jazz) y medios como la Tv o el cine, pero si cabe con un mensaje más crudo y punzante.
John Zorn`s Cobra
El subtítulo de este trabajo "Hen to Pan" es… Jay Campbell plays John Zorn. Esto nos conduce a la creación de una vanguardia americana que piensa en un intérprete o en un conjunto en concreto para exponer mejor la obra. Steve Reich, Harry Partch, Morton Feldman o el mismo Frank Zappa auspiciaron reunir ejecutantes capaces de trasmitir su mensaje fielmente. Zorn lo ha hecho en Naked City, en Masada mil veces y ahora, como cuando Terry Riley escribe para el Kronos, lo hace para su chelista favorito.
La obra

Desmarcamos estas cinco piezas con ponen este trabajo del realizado por el Masada String Trio y su lectura sobre el cancionero escrito por Zorn: esto no son canciones, son piezas sujetas a principio y fin –lo dicho sobre la simbología- que cumplen con ese ser cíclico en las piezas tituladas Ouroboros. En cierto modo, Zorn nos ofrece una mirada que descansa en la tradición de la música contemporánea que procede de Schönberg, con su empuje de intensidad lacerante propio.

Hay una conexión entre una actitud posmoderna ya muy destilada, la que se filtraba en Aporias y en los Cuartetos de Cuerda, que tiene su origen en Naked City y aun antes en la iconoclasta visión sobre Morricone en The Big Gunddown, y por otro un acercamiento sintético a cómo suena la Música Contemporánea del Siglo XX pero hecha desde la concisión. Por ello divide el grupo en un conjunto más de cámara "tradicional" entre cuerdas (dos chelos) y piano y al otro (violín y violonchelo) le añade batería. Dejando un fascinante duelo en el centro ente chelo y piano para Occam`s Razor .
Un caos organizado por una mente que escribe además de improvisar, que se sitúa
dentro y fuera de la tradición contemporánea...
Ataques de las cuerdas, texturas que se cruzan a una velocidad endiablada, volúmenes retorcidos en piano y percusión. El tiempo se diluye entre melodías que surgen y desaparecen. Síntesis de materia y cerebro, Zorn escribe rápido y bien. Y se le entiende.